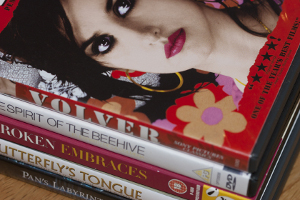 Spanish-language films are screened and commented bi-monthly on a Saturday from 2.30pm – 5pm and the price is £20. The whole session is conducted in Spanish, so it's a good opportunity to practice the language while enjoying a glass of wine and some nibbles! A good knowledge of Spanish is necessary to gain full benefit from the afternoon.
Previous screenings
Pedro Almodovar series
Featuring:
Mujeres al borde de un ataque de nervios (1988)
Volver (2006)
Abrazos rotos (2009)
Spanish Civil War Series
La lengua de las mariposas (Jose Luis Cuerda; 1999; 96 min)
The film is set in a village in Galicia, in the winter-spring of 1936, just before the outbreak of the civil war. The main character is Moncho, a six-year-old boy who is afraid of going to School. However, his teacher, Don Gregorio, turns out to be a kind, affectionate man with a passion for nature. He i.s also a republican and teaches Moncho, not only about butterflies (mariposa), but also about life and liberty
El espiritu de la colmena (1973; Victor Erice; 97 min)
This film is set in a rural village in Castilla, in 1940, just after the end of the civil war. A travelling movie theatre comes to town and screens James Whale's immortal Frankenstein. Ana, a little eight-year-old girl, watches the film, captivated, and is distressed when Frankenstein kills the girl in the film and then is killed himself. Ana's older sister, preying on her gullibility, tells her a way to evoke Frankenstein. Ana follows these instructions, and when she finds a republican fugitive hiding out in a nearby farmhouse, she is convinced he is Frankenstein. This film has been called "one of the most beautiful and arresting films ever made in Spain, or anywhere, in the past 25 years" and also a "bewitching portrait of a child's haunted inner life"
El laberinto del fauno (Guillermo del Toro; 2006; 120 min)
Set in 1944 in post-Civil War Spain during the early Franquist period, when rebels still fought in the mountains against the fascist troops, young Ofelia travels with her pregnant mother Carmen to an unidentified outpost, to meet and live with her stepfather, the sadistic and cruel Falangist Captain Vidal. During the journey, a fairy tells Ofilia she is a princess and will meet her true father, the King, but only after she accomplishes three gruesome and dangerous tasks. The plot of this film has been described as "a little girl escaping the harsh reality that surrounds her by retreating into a fantasy world" although I believe the film is so much more than that: full of symbolism and hidden meaning… Will we be able to unravel it?