Spanish Struture Drills (1.0)
Available as an MP3 download or CD, this course is a straightforward, effective approach to building language links in the brain, using simple repetition and is the first in a series coming later this year.
The content corresponds to Levels B1 and B2 of the Common European Framework for Language Learning (intermediate level) and includes practice on direct object pronouns, indirect object pronouns, ayudar, gustar and three verbs that work like gustar : encantar, parecer and molestar. Read full content details and see reviews and student testimonials.
Free taster
For a free taster, see Bristol Spanish YouTube channel. If you would like free transcripts of the YouTube repetition drills, do get in touch or subscribe to the Bristol Spanish mailing list.
Listen to a sample track: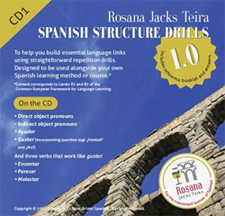 Making sense of Spanish verb conjugation
If you're struggling to make sense of Spanish verb conjugation (it doesn't really exist in English) why not consider our on-line course which explains the mechanics using fun animation? This course is now half price: £18.50! You can get it at Bristol Spanish on Teachable. The discount code to enter at checkout is STAYHOME (all caps).
Buy course at Teachable